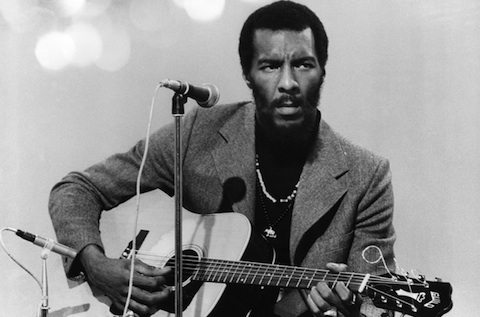 It was with great sadness that I heard of the death of another Woodstock legend yesterday; Richie Havens, aged 72. He suffered a sudden heart attack at his home in Jersey City.
In 2008, I was lucky enough to interview Richie for music-news.com. He had a real aura about him, and was the coolest man I ever met. Transcript below.
Richie Havens music career spans over four decades. His powerful, soulful voice personified 60's counter culture and he was immortalised in the video of the now legendary Woodstock Festival. He is in London this weekend for a mini residency at The Jazz Café (Friday 15th, Saturday 16th and Sunday 17th February 2008). He will be performing with Stephanie Winters (Cello) and Walter Parks (Guitar).
Cliff Smith: So how's London treating you?
Richie Havens: Great – it never disappoints!
Cliff Smith: You're playing at the Jazz Café this weekend?
Richie Havens: I've been playing every weekend for the last 30 years!
Cliff Smith: Are you trying to beat the Rolling Stones?
Richie Havens: I think I play more than them!
Cliff Smith: Do you ever get tired of it?
Richie Havens: No it's like I'm just starting out… when I perform I know the first and last songs I'm going to play and the rest depends in the audience – it's different every night. There are young kids that will come to the show of fourteen or fifteen, who have only just seen the [Woodstock] video for the first time so I constantly have new audiences.
Cliff Smith: You have a new album out soon what can you tell us about it?
Richie Havens: Well as I've always done, I try to make it a continuation of what I've done before. There are some songs that didn't make it onto the last album. People ask me at gigs "Which album is that song from?" and I say it's not from any album, but it will be on the next one! The album is an idea, like an umbrella, and the spokes are the songs.
Cliff Smith: What is your approach to recording?
Richie Havens: I don't record songs, I record performances. We get together with an idea and it blossoms into a performance, and that's what we record. Other musicians who play with me bring their own ideas and performances to the music. I never say to them "Play that".
Cliff Smith: Guild released a Richie Havens signature D-40 model – do you use Guild guitars exclusively?
Richie Havens: I play Guilds because in the style I play, I need all the strings on my guitars to have the same volume.
Cliff Smith: It looks like you play pretty hard, which gauge of string do you use?
Richie Havens: I don't play that hard anymore, I use medium gauge strings. Years ago in the clubs they used to use $9 microphones so no matter how close you had it to your guitar you couldn't hear it properly and you had to break your guitar every night! That's why I used to snap so many strings. Everybody was snapping strings! Over the years as the equipment has improved I snap less and less strings.
Cliff Smith: So you use open D tuning for all your songs? But they're not all in D!
Richie Havens: That's the way I learned in Greenwich Village, I sometimes tune down to a Dm chord but I've learned how to play in open D and I use it to express things within a song.
Cliff Smith: Your website has some great lessons on it, I'm planning to have a go at 'Here Comes The Sun' later on but I fear that my thumb's not big enough!
Richie Havens: You need to get a thin neck guitar!
Cliff Smith: You're an actor too, you were in The Who's film 'Tommy', and more recently played 'Old Man Arvin' in Dylan movie 'I'm Not There' – how was that for you?
Richie Havens: That was great. To be working with Dylan – well not with him, for him! – was great as we've done a lot together over the years.
Cliff Smith: How does it work for you when writing songs?
Richie Havens: I usually come up with the title first and then the melody is sung to me as I write the lyrics. I already have the guitar part. As soon as the first line is written then the song just comes, I don't have to change a word or a note. Then when I come to put everything together its just magic, you know? The songs express the ideas in their own way; they ask the questions as to why we are feeling in such a way or why we don't feel like that anymore.
Cliff Smith: I love your version of 'Here Comes The Sun' – you're quoted as saying it's the only happy song you know. What is it that fascinates us about the sad song – do you think that sadness can touch us easier than joy?
Richie Havens: I think that these things change as you get older. Rock and Roll has its place for every teen, but as we get older then we see things in a different way. There is so much good music out there by these kids, you don't have to be 16 or 18 any more, it can start at 11 – and they're putting their music on the web! We've come a long way, one minute we're singing Doo-Wop and the next we're listening to Miles Davis, and I think we're intellectually better off for it.
Cliff Smith: What advice would you give to any struggling singer songwriters out there?
Richie Havens: Keep writing your music, now is not the time, and has never been the time, to chase record companies for contracts. You need to do what feels right. There is so much talent out there, you look at American Idol and there are so many great singers but then you realize that they don't write anything themselves. The record companies often push them into singing songs that they're not comfortable with and that's a shame.
Cliff Smith: I play guitar, and 'Freedom' is the song everybody asks me to play – I always finish my gigs with it! What can you tell me about the song?
Richie Havens: None of the other bands could get to the [Woodstock Festival, 1969] stage because of all the people so they put me on again. I'd already played every song I knew and I was stalling, asking for more guitar and mic, trying to think of something else to play – and then it just came to me.
Cliff Smith: That must have been some feeling – improvising in front of what was it, 300,000 people? And getting such a great reaction?
Richie Havens: It was 550,000! What you couldn't see in the video was at the back of the field there was a road and then beyond that there was another field just as big, full of people who couldn't even see the stage! They were 800 yards away! The establishment was foolish enough to give us all this freedom and we used it in every way we could.
Cliff Smith: Richie Havens, thank you so much for taking the time to speak with music-news.com today.
Richie's new album 'No-one Left To Crown' is pencilled in for release in March / April 2008.